Neonatology services
Our Neonatology Services provide comprehensive care for critically-ill premature and full-term infants. Our team provides the specialized care needed to safely transport critically ill infants by ground. Sethi Children Hospital combines specialized programs and services to offer the highest level of care for newborns. 24/7 care is provided by experienced paediatricians,resident doctors and sub-speciality trained neonatal nurses. Our Neonatal Intensive Care Unit (NICU) is the referral choice for hospitals because our specialists have the region's most experience dealing with complex neonatal conditions. 24/7 care by experienced pediatricians, resident doctors. Our NICU at Sethi Children Hospital is 15 bedded has around 800-1000 admissions annually & around 150-200 babies (preterm/ term) are ventilated annually at good survival rates. We have step down mothers & child health care unit of 7 beds. In last 10 years, with our growing experience & with increasing facilities & case , we are able to have 80% survival of babies between 1000-1500gms 50% survival of babies < 1000gms In last 1 year We have given surfactant to 14 babies (28-31weeks gestates), had 3 deaths & excellent survival rates. Our unit is the first & only in the city, which is doing successful peritoneal dialysis in neonates.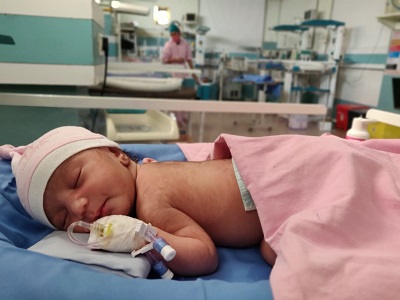 We Offer:
Surfactant administration in preterm babies.
Umbilical vein & orterial canulation.
Exchange transfusion in Neonatal Jaundice.
Peritoneal dialysis in renal failure.
High frequency Ventilation.